Music Folders for Singers: What to Look For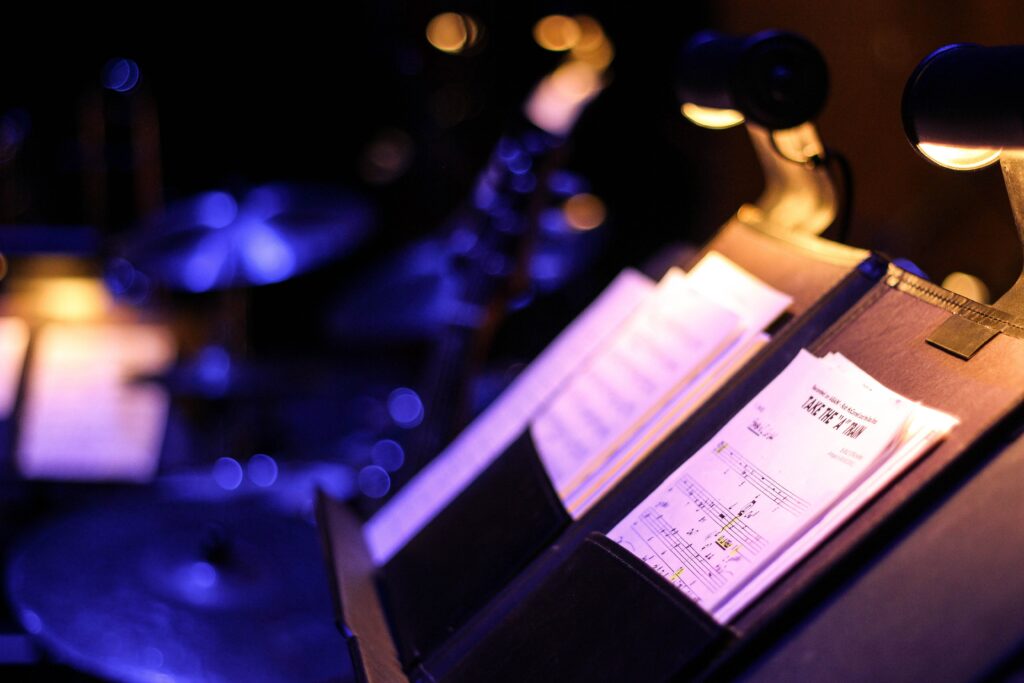 Singers perform in a wide variety of settings and present an even wider variety of music. For some of these performance settings and musical traditions, like choral concerts or oratorio recitals, singers must use music folders for their scores. While sometimes these are provided by the group a singer is performing with, there are many circumstances where singers must have their own music folders.
The best music folders for singers are sturdy, roomy, and reliable – but not all music folders are created equal! Read on to find out what to look for when choosing music folders for singers.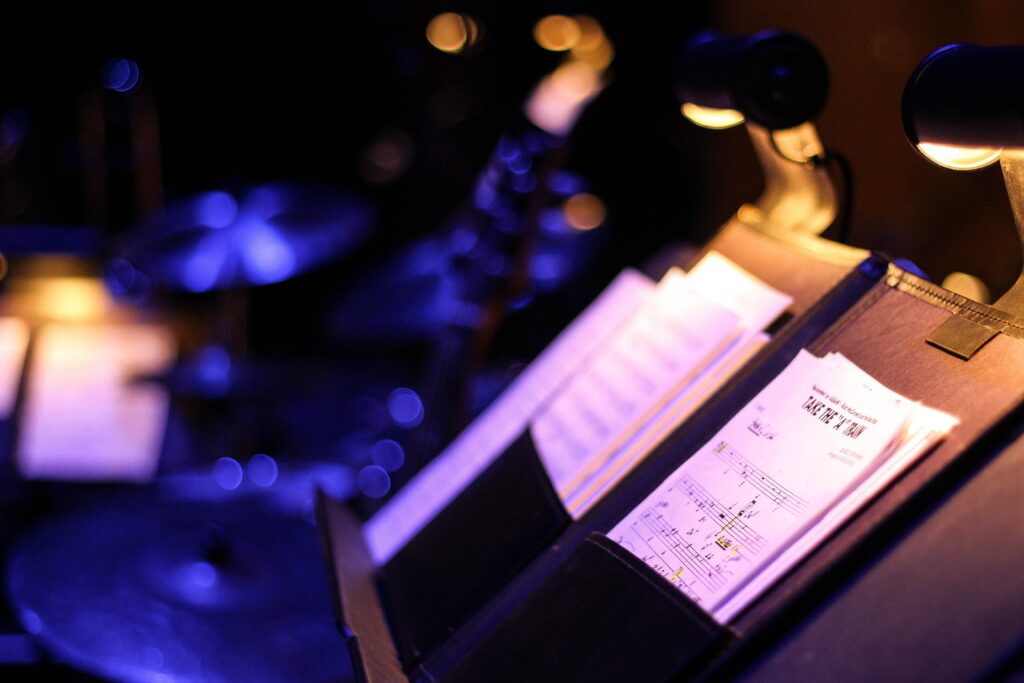 The Basics of Music Folders for Singers
In almost all performance settings where singers use sheet music, black music folders are standard. This applies for any size ensemble, from a singer and accompanist duo, to chamber groups, to large choirs. Often, music folders also feature brass-tipped corners.
Black music folders have become the standard for a number of reasons, but they all boil down to one thing: camouflage. The idea is to draw as little attention as possible to the music folder, and redirect that attention to the musical performance itself.
Some singers have small engravings of their names or initials on their folders, usually in gold. These sorts of markings are acceptable, and often valuable for professionals, but should always be discrete and tasteful.
Another must-have quality in music folders for singers is sufficient space for scores. Some concerts have lengthy repertoire lists or cover a large masterwork printed across dozens of pages. It is crucial that any music folder a singer might choose is large enough to accommodate what must be contained in it.
Finally, it is imperative that a music folder is manageable for a singer during a performance. This means that anything too floppy, or anything that will let your scores fall out during use is not a good choice. A simple paper two-pocket folder can work in a pinch, but there are few circumstances where a file folder would be appropriate.
Better Music Folders for Singers
Venturing into the world of folders purpose-built for music, there are a few qualities that are particularly helpful for singers.
Expandable pockets allow musical materials to rest comfortably when not in use, and keep the edges of expensive scores in good condition. Having two expandable pockets also allows singers to organize their music into groups or sets, and neatly navigate their repertoire.
In music rehearsals, pencils are a must-have. Singers should look for music folders that have at least one pencil holder loop sewn into the inside. These are sometimes made of the same material as the outside of the folder, but the best ones are made of elastic.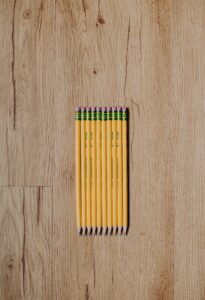 A Strapping Success
Unlike most other musicians, singers often stand and hold their music while performing. This introduces an interesting aspect of music folder design that is specific to singers: straps. There are two types of straps that are helpful to have on music folders for singers:
A hand strap on the outside of a music folder is a huge asset for singers. This type of strap rests on the outside of the hand and stabilizes the folder as the singer holds it. This is tremendously helpful for singers, who are often required to stand for long periods of time with music folders. No matter how heavy a music folder might start out, it always feels heavier by the end of a long performance! Having a hand strap on a music folder can relieve a bit of that burden, and help singers carry that weight with grace.
The other type of strap that is helpful for singers exists on the inside of music folders and holds the bottom edges of the folder together at an angle so that the folder does not open fully flat. Ideally, the strap can be fastened or un-fastened with a button, allowing you to open the folder flat when needed. This feature, in conjunction with the hand strap, allows singers to comfortably hold their music open with one hand.
Best of the Best
The ultimate luxury in music folders for singers exists in the spine of the folder, where music can be fastened when in use. While most music folders have some device in the middle to keep music contained and connected, the best music folders for singers come with an interchangeable spine piece, which can accommodate multiple types of musical scores. Ideally, this set would include:
Elastic straps
3-ring binder clips
An iPad shelf
Elastic Straps
Elastic straps are the most common way to arrange sheet music for performance and come included in most music folders. To use these, singers turn to the middle page of a score and slide half of the pages through one of the elastics. Though these readily accommodate most published music, these can be tricky to use with anything printed out on conventional paper, or stapled together.
Binder Rings
A 3-ring binder clip can also be used to secure music in folders. These are ideal for anything printed on letter-sized paper, or with staples in it. Because they securely fasten music, 3-ring binder clips full of music can actually be switched out while loaded. This allows singers to jump between setlists or groups with ease. Conveniently, some groups distribute music with holes already punched. Before punching holes in any music yourself, always remember to check in with the owner of the score you're using. If they would prefer to keep the score intact, make a copy and hole punch that. (As long as the photocopy is not distributed, and is disposed of it when finished, this is allowed in the US.)
iPad Holders
For the modern musician, iPads have become an essential tool for sheet music. To accommodate these, companies like MyMusicFolders have created folding shelves that lay across open folders and keep iPads at the ready. It is possible to balance iPads in folders without assistance from any devices, but the singer would be assuming some risks by free-wheeling with an expensive electronic device.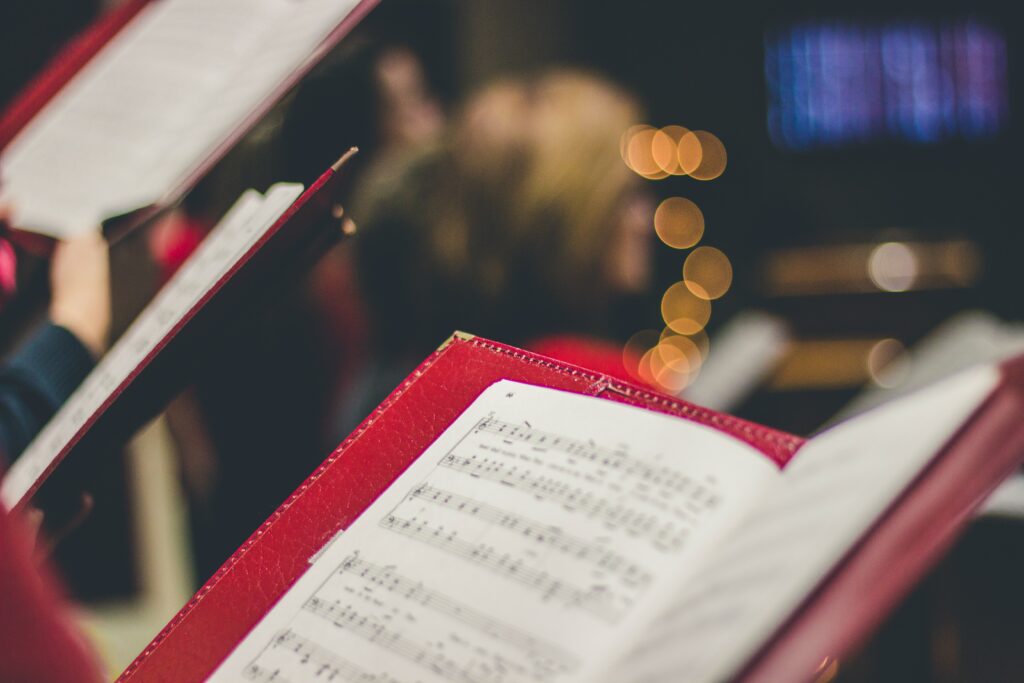 Now you know the basics and beyond of music folders for singers. Happy singing!